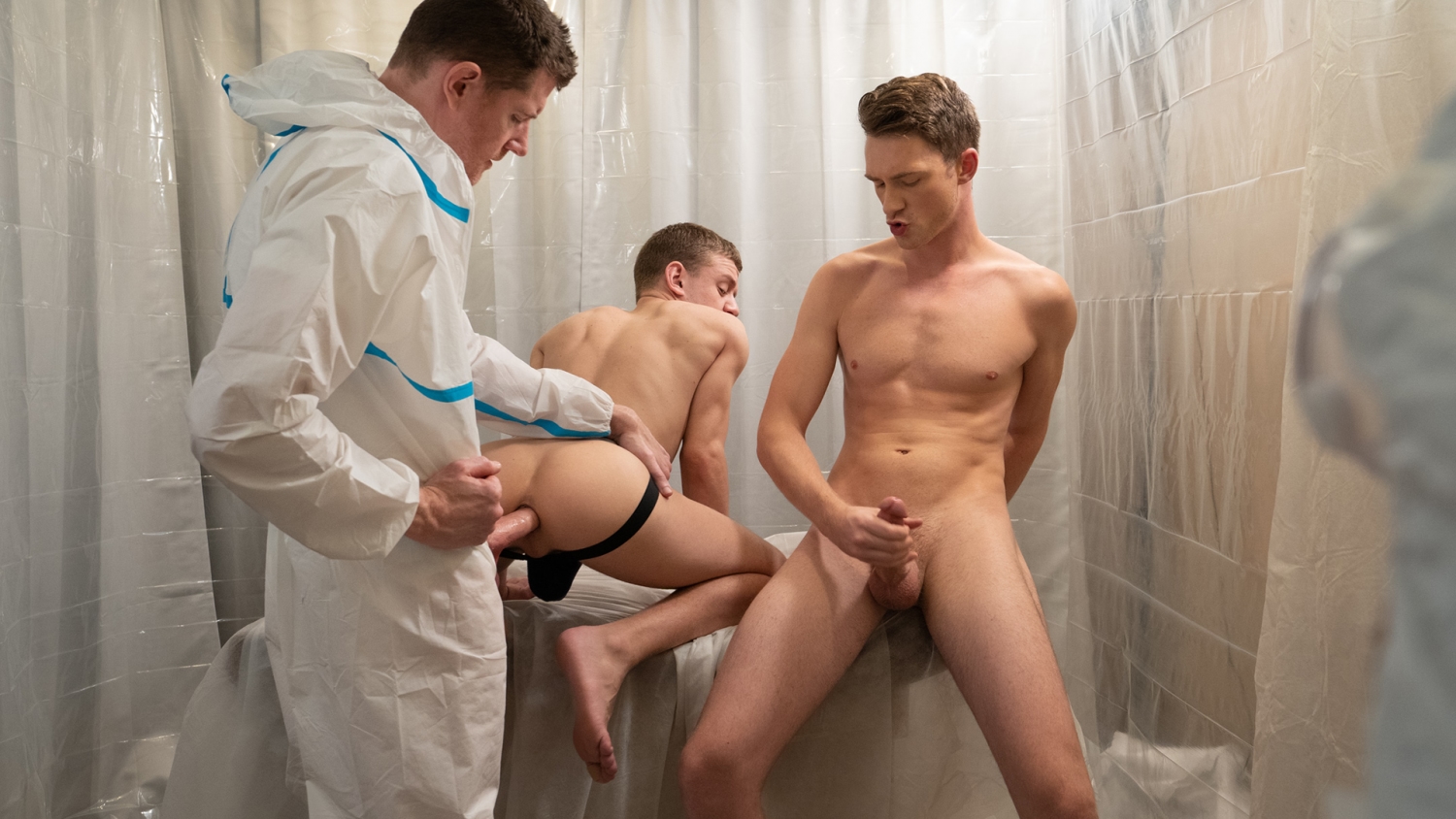 Cleanroom Intake - Cousins Inspection
Cole and Ian were alarmed when they were pulled away from their home. As cousins they've always been very close, almost like brothers. The strange men in hazmat suits originally wanted to evacuate them separately, but they insisted on staying together no matter what. The in-take physicians at the quarantine center were resistant at first, but their higher-ups designated the boys for special evaluation, taking the two of them to a secure room together.
Neither of the ...
Read more
Neither of the boys fully understood what was going on, only that it was in their best interests to follow instructions. They had not yet heard the specifics about the virus affecting the population, nor that it seemed to only affect men who have sex with women. Fearing they might be affected, they did everything they were told, even when that meant taking off each others' clothes.
Cole first thought it was because they had already been exposed to each other, given that they were found together, but as he got his cousin down to his underwear, he wondered why he couldn't have done it himself. Not that he minded seeing his cute, younger cousin undressed. He'd always liked his adorable smile and lean, trim body. In fact, the two had been intimate on a number of occasions… thoughts of which got Cole inopportunely aroused.
As Ian proceeded to undress Cole, he could see his cousin's erection swelling in his underwear. While he loved Cole's big, thick cock, they were smart enough to not advertise their connection to others. Even in this strange, scary environment, the two found themselves unable to hide the mechanics of their sexuality and desire. And the doctors were more than aware.
"Let's see the two of you kiss," one of the doctors ordered.
It shot a bit of fear in each of the cousins. They didn't know if this was a test or what, but they were told explicitly to follow orders. Leaning in, Cole pressed his lips to Ian's, tasting him on his tongue as they embraced.
When Agent Wolf entered the room, covered in full protective gear, Cole was informed that he would be fucked by the strange man. Cole was rock hard from his cousin's kiss, but was unsure how to feel about being fucked in front of everyone. His heart raced, not sure of what to do. But as the covered man began to touch his body, he looked his cousin in the eye, seeing the young man's nervous expression, betrayed by his swollen cock concealed in his underwear...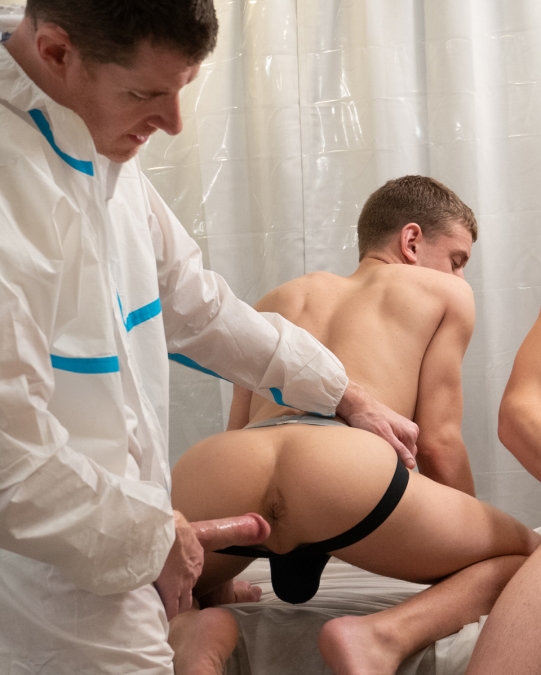 Cole has a secret that's been eating him up. Yes, he's gay. Yes, he fantasizes about men... But that's not it! Many boys his age think about getting fucked by other guys. Some look at hunky men, with their muscular and furry bodies and get wildly turned on. He likes other guys his age, but he also is wildly turned on by "daddies," especially those with big dicks. Hung handsome older men are a huge turn on for the boy. And none fascinate him sexually more than the man who raised him. The young man has been thinking about it for years, but he knows there's almost no way to bring it up or see it come true. It wasn't until Mr. Houser caught him jerking off to his dad's socks and underwear that the cat was out of the bag! He trusts and loves his handsome older daddy completely, but was still too scared to take the lead...and to say what he really wants...
Dr. Wolf loves his boy. Spending all day in the office, seeing patients of all kinds, he's constantly reminded just how special his own young man is. He's always had the desire to be with him more intimately, but never quite knowing how to broach that subject. He sees the glances at the dinner table, coming out of the shower, and in the gym, but still not sure that he can make the first move. He's met some patients with similar inclinations, giving him a little more courage to explore his relationship. The tall, handsome, hung man can and has been able to sleep with almost anyone he wants, but the ultimate prize is own boy, Jonathan.
Ian has admired his old man for ages. He's always watched him with awe... And their close bond has always been there. Seeing his dad's handsome face and fantastic athletic body was something to aspire toward. Now that he's grown up, he possesses many of the same features... Obviously his fathers good genes are something to be proud of. Still, no one has it like his dad! As time went on, his fixation became more personal... And eventually he became aware that is was quite sexual! He would find ways to catch glances of him coming out of the shower and at the pool, he loved the way a wet swimsuit would cling to that enormous daddy dick, and he was even guilty of stealing his dad's sweaty jock to inhale his old man's nut musk. He would love to taste him, but knows there are some things that are just too taboo to ask for...