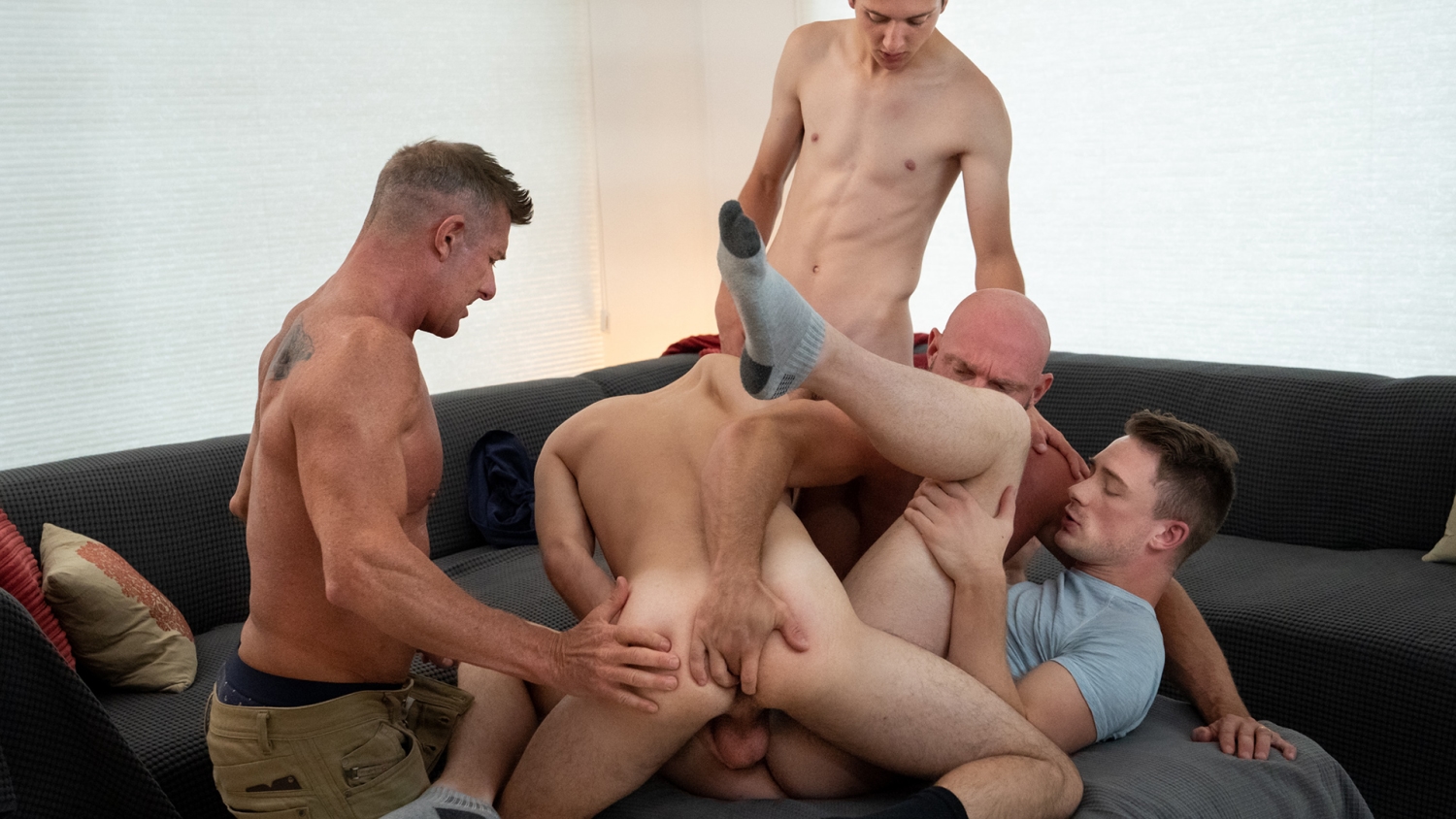 FAMILY HOLIDAY TRADITION : Tape 1
Thanksgiving Dinner
You can keep Charlie Brown: This Thanksgiving orgy is the only holiday special I need. Somebody shoved this video in my mailbox with a note that said "turkey basting," and that's the fucking truth.
It starts when ...
Read more
It starts when young Cole is playing video games with his friends Jack and Marcus, who shock Cole by talking about how much they love fucking their dads. But the more he hears about these boys taking their father's hard dicks, the more turned on he gets. That's all Marcus and Jack need to see: They get Cole undressed and service his huge cock.
Then Cole returns the favor, laying on his back so that he can suck Jack's dick and get fucked by Marcus at the same time. They're moaning with pleasure when Marcus' father, Mr. Knox, catches them in the act! But instead of getting mad, he gets naked and takes a break from making Thanksgiving dinner to suck and kiss the boys, with special attention for his son.
And then comes the part that makes this one of the best videos in my collection. Jack's dad Mr. Figata hears the commotion and decides to join in, too. He fucks his boy and kisses him deeply while Mr. Knox gets fucked by his own son, praising him for the deep pounding. Cole strokes furiously as he watches the action, loving the way these fathers and sons take each other's holes. By the time Marcus shoots a load inside his dad, with all the men cheering him on, nobody cares about the turkey anymore. They're spent and happy and very, very thankful.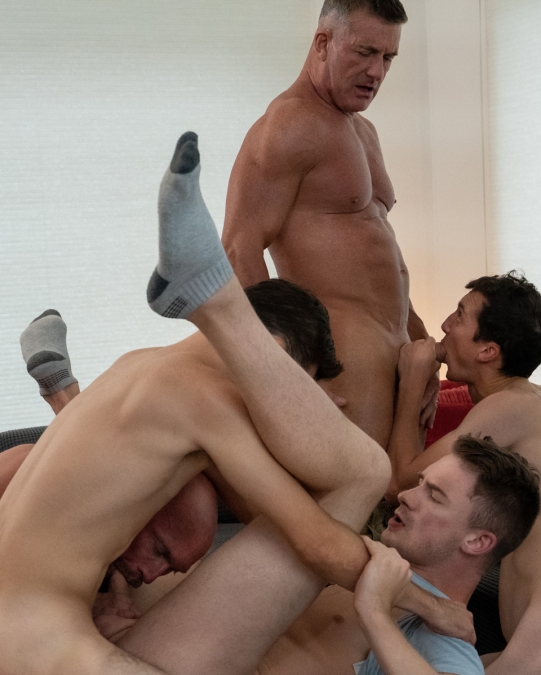 Cole has a secret that's been eating him up. Yes, he's gay. Yes, he fantasizes about men... But that's not it! Many boys his age think about getting fucked by other guys. Some look at hunky men, with their muscular and furry bodies and get wildly turned on. He likes other guys his age, but he also is wildly turned on by "daddies," especially those with big dicks. Hung handsome older men are a huge turn on for the boy. And none fascinate him sexually more than the man who raised him. The young man has been thinking about it for years, but he knows there's almost no way to bring it up or see it come true. It wasn't until Mr. Houser caught him jerking off to his dad's socks and underwear that the cat was out of the bag! He trusts and loves his handsome older daddy completely, but was still too scared to take the lead...and to say what he really wants...
Mr. Figata is no dummy when it comes to sex. Clearly, as a father himself, he knows it can be a lot of fun. And looking the way he does, it's not like he's only done it once. He's got all the charm and friendliness of your local, neighborhood dad, but under the polo and khakis, he's a total perv. He loves feeling his cock deep inside a warm, tight hole, especially that of a hot young guy. But as much as he wants to indulge in his more base desires, he wants to be a good dad, too. When his boy started coming of age, he found their connection changed. No longer was Jack rushing to him for advice or telling him all about his day. The handsome young man was beginning to discover the world for himself, leaving Mr. Figata feeling a little left out. He wants his boy to know he can go to him for anything. Besides... the boy has a cute little butt that his old man would love to taste.