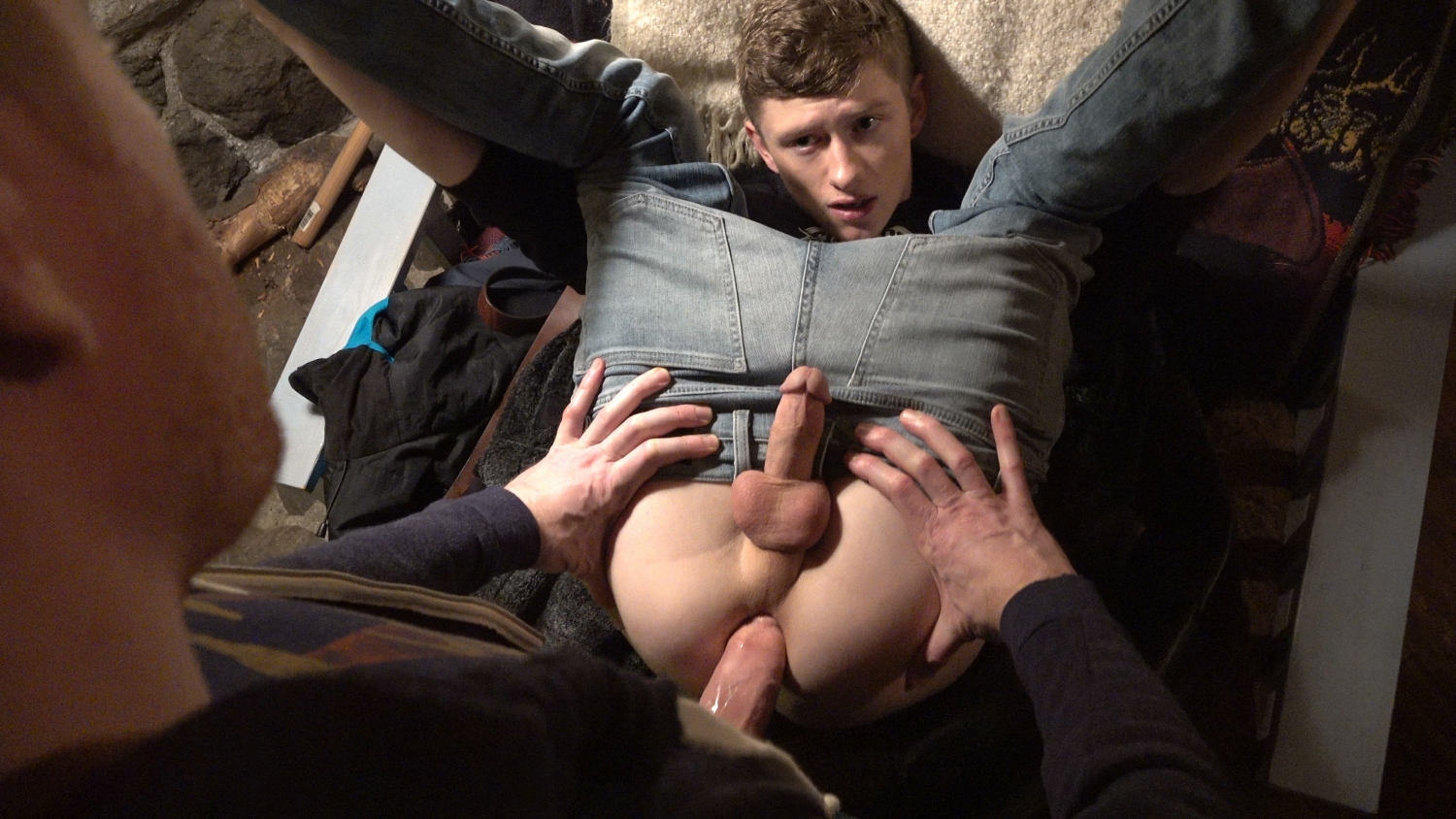 THE DOCTOR'S SON : Tape 1
Unwrapping My Boy's Package
Dr. Wolf doesn't get too many free weekends alone with just him and his boy. Between work and school, it's almost impossible to sneak off for a little fun! But luckily the two managed to find a weekend to drive out to the woods for a little outdoor bonding…

The long walk to the cabin was part of the appeal. No people driving by and no neighbors checking in… No one around for miles! As they walked deeper and deeper into the lush wilderness, their primal urges rise to the surface. Jonathan had been dying to seize on his feelings for his old man, but there had never been the right moment with his mom around. The years of lingering looks and stolen, caressing touches became too much to suppress. And now, far away from their regular life, Jonathan and Dr. Wolf were free to play!
Dr. Wolf pulled ...
Read more
Dr. Wolf pulled Jonathan to the side of the trail, grabbing him by the face to kiss him softly. The trees rustled in the breeze, trickling raindrops down on them. Despite the cold and damp weather, the two felt like they were on fire! As soon their lips touched, every part of their bodies grew hot, turned on by their privacy and the sinfulness of their desires.
Dr. Wolf could hardly keep his hands off of Jonathan's body, sneaking his hands under his waistband to feel his soft, smooth buttocks. The tiny boy was absolutely beautiful and perfectly compact. Dr. Wolf's big hands could practically contain both his cheeks in one palm. The idea was enough to make the older man's dick practically burst through his jeans. They could have fucked right there, but they carried on, knowing the real fun was yet to come!
Approaching the cabin, Jonathan's heart pounded in his tiny chest, knowing that beyond that threshold was a point of no return. He'd wanted to get fucked by his old man for so long, he would often fantasize about how it would happen. Now that he was this close, he could feel anxiety take him over.

Dr. Wolf could see the boy shaking, not sure whether it was the cold air or nerves. Either way, he brought the boy in close and held him tightly. He whispered to him that it was okay and that he was there for him — a sentiment that made Jonathan's heart swell. He knew why they were there and how special it was. It meant the world to Jonathan that he could share the secret getaway with his dad.

As soon as they got inside, their lips met again, charged with a palpable sexual energy that was only exacerbated by the long walk. Dr. Wolf wanted to take his time in order to let the boy settle in and relax before doing anything more, but he found himself unable to control his urges, prompting him to take bolder actions than he anticipated…
He placed the boy on a chair, pulling down his pants slightly to exposed his tight hole, lifting his legs upright. Jonathan was stunned to see such commanding direction from the otherwise quiet and even tempered doctor. He trembled even more now that his hole was exposed, feeling his cock slip out as well as he settled into his position. Dr. Wolf was ravenous, feeling up the boy's cock and balls, while placing his thumb on Jonathan's hole.
Jonathan couldn't believe Dr. Wolf was touching him there! Despite all the fantasies and wishes, it always seemed impossible. Now, he could feel the pad of his old man's thumb tickle his insides as it passed over his tight sphincter, as he spread his cheeks to expose his delicate hole.

Dr. Wolf looked into Jonathan's eyes, sensing his nervousness, but he could also tell by his hardening cock that his excitement was stronger than his fear. He looked at his cock and then back at Jonathan, inviting his son to make the next move…

Jonathan knew this was a test — a chance to show this was something he wanted just as badly. He swallowed his fear, lifting himself up and quickly pulling out Dr. Wolf's massive cock.
It was huge… Bigger than he expected! As he took it in his hands, it only seemed to get longer and harder. Jonathan pulled it onto his tongue, getting his first taste of the man's member. It was like a new kind of fruit, subtle, sweet, and delicious. He swallowed it down again and again, never wanting to take it out of his mouth. He moaned into it, feeling it vibrate between his lips as he did. As it throbbed on his tongue, Jonathan could taste his father's pre-cum as it slid down his throat.
Dr. Wolf wants to take his time and make the moment last, but his own desires are too strong! Pulling his slicked up cock from his boy's mouth, he slides himself between Jonathan's cheeks. With a gentle push, he punctures the boy's virgin hole, feeling him tremble as he moves his way in inch by inch…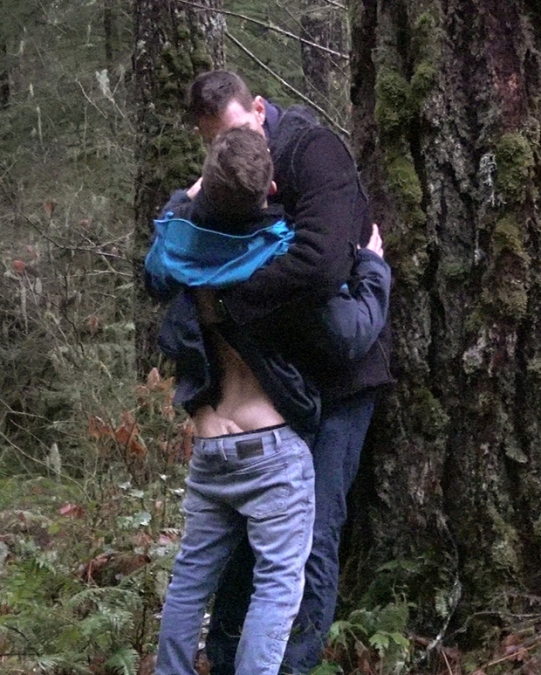 Dr. Wolf loves his boy. Spending all day in the office, seeing patients of all kinds, he's constantly reminded just how special his own young man is. He's always had the desire to be with him more intimately, but never quite knowing how to broach that subject. He sees the glances at the dinner table, coming out of the shower, and in the gym, but still not sure that he can make the first move. He's met some patients with similar inclinations, giving him a little more courage to explore his relationship. The tall, handsome, hung man can and has been able to sleep with almost anyone he wants, but the ultimate prize is own boy, Jonathan.
Jonathan has had a crush on his old man for years. The sweet, young guy admires Dr. Wolf for his good looks, intelligence, profession, but more than anything, he worships his massive cock. He's been sneaking glances of him whenever he can, even stealing his underwear and imagining how his manhood would feel on his face. He's never said anything, but he's starting to suspect that Dr. Wolf is aware of his feelings. In fact, he wonders if maybe the feeling is mutual! He's never been with a man before, only ever jerking off and watching porn, endlessly fantasizing about being fucked. And nothing would mean more to him than for his first time to be between the man he respects and admires the most: his old man.