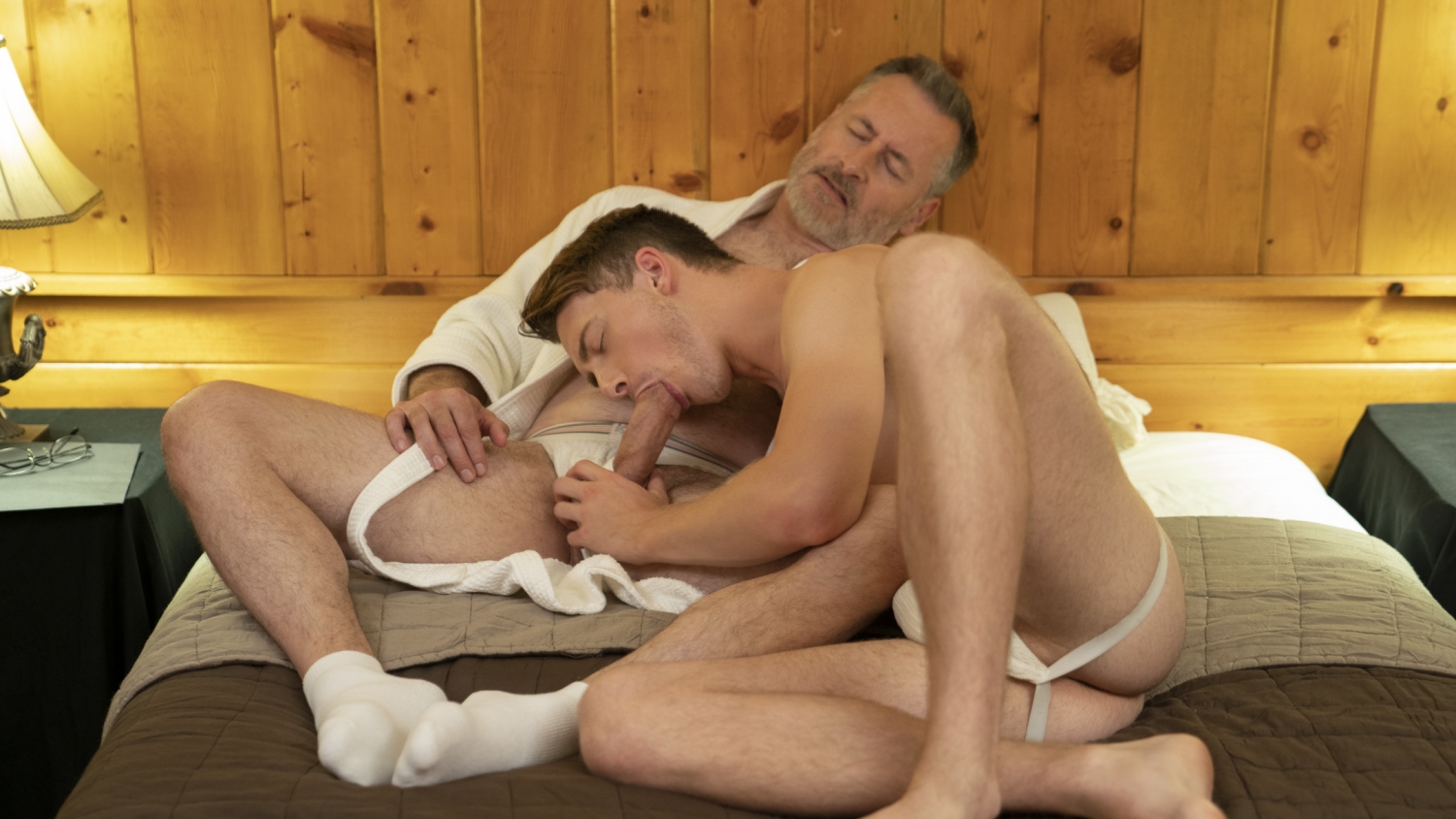 BOY'S FIRST TIME : Tape 2
The Suite
It can be hard to stay awake after a passionate afternoon of fucking, but as tired as Mr. Houser may be, his boy Cole has more energy than he can handle! The horny young stud lays in bed with his old man, cuddled up beside him as he reads over the contents of their welcome packet. Intrigued by what had already transpired, he reads ahead to see what more is in store.
Cole rests his head on the older man's shoulder, playing with his chest through his open robe. Mr. Houser's broad torso and soft, silver hairs give the boy's hands plenty to explore while seeking the daddy's attention.
Mr. Houser soon ...
Read more
Mr. Houser soon finds himself more than a little distracted by Cole's subtle advances, feeling his hard cock press against his leg as his hands work their way further down his body. He smiles at the thought of seeing his precocious boy becoming more comfortable lying skin to skin with him, overwhelmed by the beautiful new bond they now shared.

Cole loves his old man dearly and trusts him with his life, but all he wants now is another turn on his thick, hairy baby maker! Mr. Houser spreads his legs apart to give his boy the go-ahead to play with his cock, inviting him to take it out of his jock strap and give it a taste. As Cole holds the thick member in his hand and brings it to his beautiful mouth, Mr. Houser can't help but wonder if Cole can taste his ass from the pounding it had endured just hours before.
Mr. Houser teases the boy's cock, feeling it stiffen in his grip, dripping with pre-cum, and desperate to unload. Cole's moans are symphonic, filling the room with a pleasant music that Mr. Houser could listen to all night. Were it not for Cole repeatedly filling his face with the older man's cock, muffling his sweet sounds, he would gladly play him like an instrument.
As Cole's mouth wraps around his cock, getting it wet and warm from his tongue; Mr. Houser's thoughts return to the boy's perfect, athletic ass. He, too, wants to return there. Eager to feel his boy yield to his manhood and embrace his breeding thrusts, he fingers his hole, still a little tender from before.
His sweet and strong boy, able to take him dutifully, again and again. It might be hard, but he knows he needs to feel himself inside his beautiful young man again. It can't be helped — he has to seed him once more…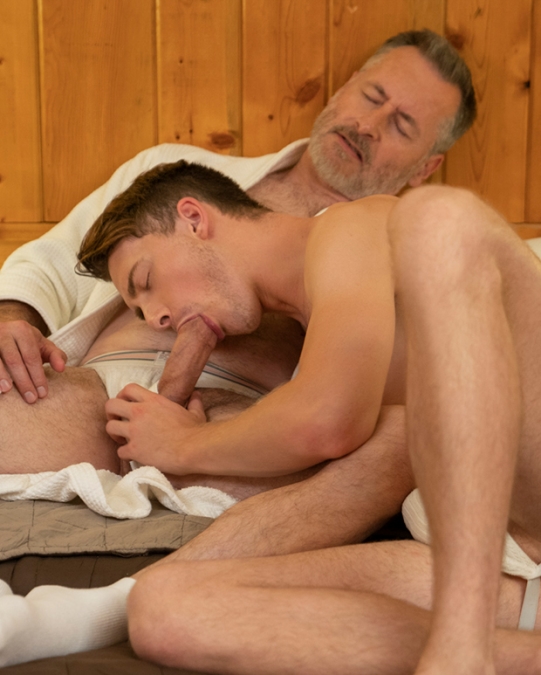 Cole has a secret that's been eating him up. Yes, he's gay. Yes, he fantasizes about men... But that's not it! Many boys his age think about getting fucked by other guys. Some look at hunky men, with their muscular and furry bodies and get wildly turned on. He likes other guys his age, but he also is wildly turned on by "daddies," especially those with big dicks. Hung handsome older men are a huge turn on for the boy. And none fascinate him sexually more than the man who raised him. The young man has been thinking about it for years, but he knows there's almost no way to bring it up or see it come true. It wasn't until Mr. Houser caught him jerking off to his dad's socks and underwear that the cat was out of the bag! He trusts and loves his handsome older daddy completely, but was still too scared to take the lead...and to say what he really wants...
Mr. Houser was stunned to find his boy Cole jerking off with underwear on his face. He's certainly fantasized over underwear before, but it was something else entirely to know that his own boy was thinking of him as he pleasured himself! He wants to give him everything and make him happy, leading him to consider doing things that he knows are a bit taboo. Searching high and low for and answer, Mr. Houser has found a way to maybe break through the social bonds that are holding him back from fully loving his boy... he just hopes he has the bravery to go all the way.