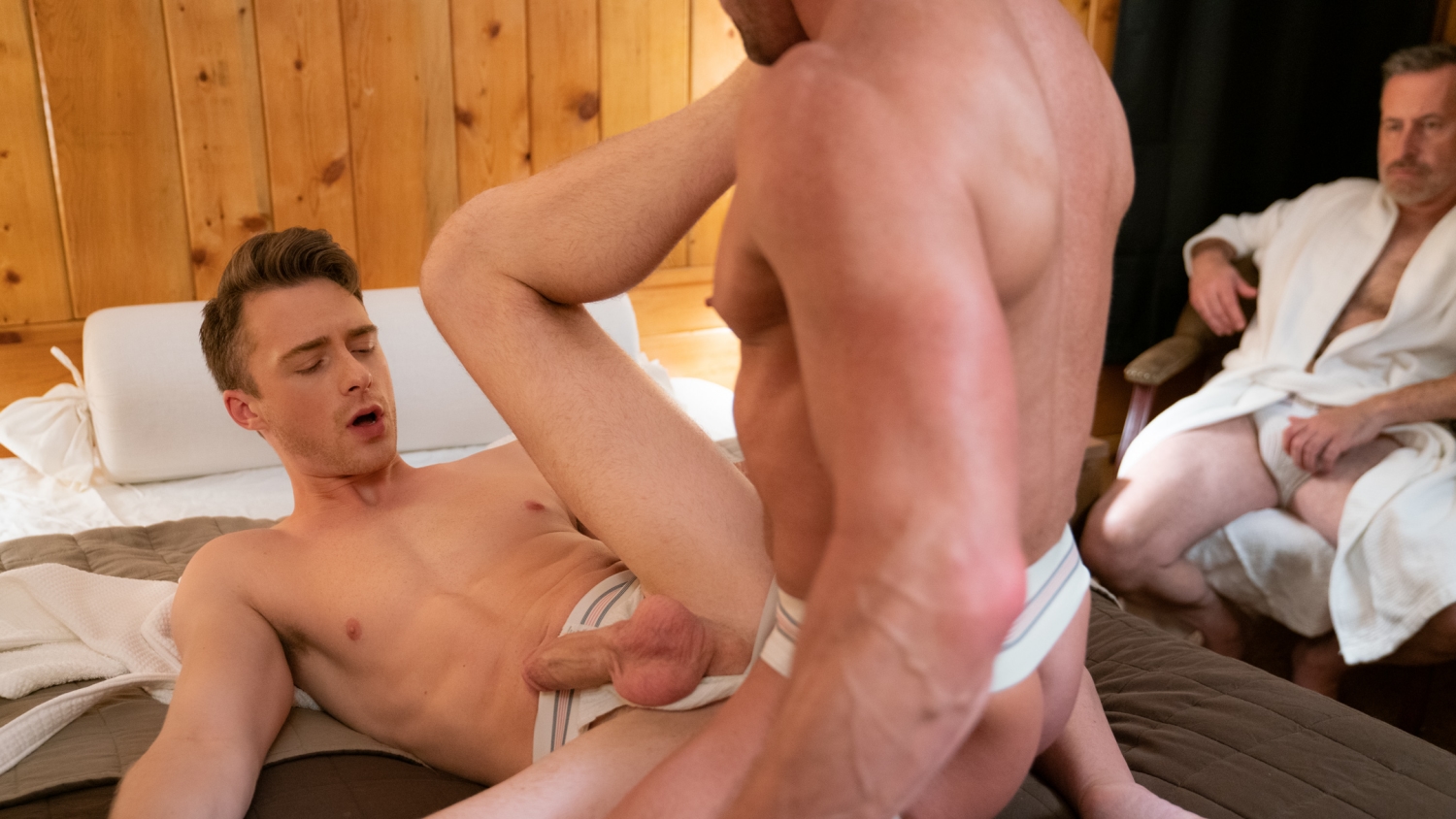 BOY'S FIRST TIME : Tape 4
Sharing My Boy
Intimacy isn't just about affection and chemistry, it's also about trust. Trusting your partner and allowing them to be their own person. It can be hard for a daddy to see his boy grow up and go off on their own, but that is an important sign that they've become the man they're meant to be!
When Mr. Houser saw that part of the Forbidden Boy plan included a session for his boy to be fucked and bred by another daddy, it was a tough pill to swallow. He loved Cole with all his heart and couldn't imagine what it would be like to see him with another man. He knew that Cole was a bright, emotional, and sexual person, but it was still a difficult concept to grasp. He needed to explore and experiment, and there was only so much Mr. Houser could do for him as his old man…
When the moment ...
Read more
When the moment came, he was unsure how he would respond, but he trusted the Forbidden Boy Hotel to only bring in the most honorable and worthy of men for his boy. He met with Mr. Landon briefly, getting a chance to know him and express just how special Cole was. Mr. Landon understood completely, having a special boy of his own. Mr. Houser knew he'd never be fully ready for this, but he was happy that the man was someone who understood just what this meant. Not only that, he was impressed with how handsome he was!
Cole was told that he'd be getting fucked by another man, a thought that both terrified and excited him. He loved his daddy, but as a horny boy, the idea of getting fucked was always a thrill! Cole was unsure of what to do, but Mr. Houser explained that he'd be right there with him the entire time, watching him, loving him, and making sure he was safe. After all, who could better look out for him than his old man?
Cole's cock instantly leaked at the idea. He wanted to try out new things and feel affection from other men, and knowing his daddy would be there with him was the best news he could have heard.
The two men went into their bedroom as they'd done the previous nights, only this time Mr. Houser sat in a chair nearby as Cole prepared himself on the bed. Mr. Houser could see cole getting excited and called in his new buddy to begin their session…
Mr. Landon was a tall, muscular man with a smooth chest and handsome, masculine face. His cock bulged in his jockstrap, growing by the second as he took in the sight of Cole's beautiful body. Cole was so turned on that he could hardly contain himself in his own underwear! He wanted to feel his cock inside him and find out how the new, sexy daddy would fuck and fill him. He looked to his old man for guidance, unsure of himself and desperate for coaching.
"It's okay, son," Mr. Houser said to him, looking him in the eye. He had a slight smile as he whispered these words, feeling his own cock begin to swell, thinking of his boy being taken right there in front of him…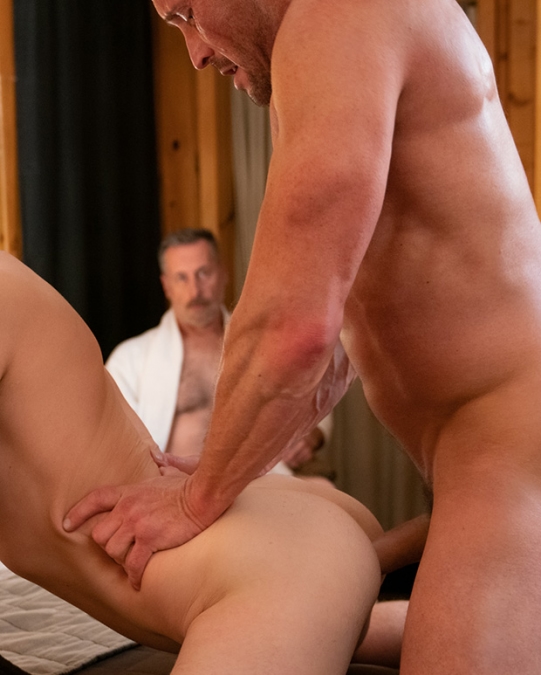 Cole has a secret that's been eating him up. Yes, he's gay. Yes, he fantasizes about men... But that's not it! Many boys his age think about getting fucked by other guys. Some look at hunky men, with their muscular and furry bodies and get wildly turned on. He likes other guys his age, but he also is wildly turned on by "daddies," especially those with big dicks. Hung handsome older men are a huge turn on for the boy. And none fascinate him sexually more than the man who raised him. The young man has been thinking about it for years, but he knows there's almost no way to bring it up or see it come true. It wasn't until Mr. Houser caught him jerking off to his dad's socks and underwear that the cat was out of the bag! He trusts and loves his handsome older daddy completely, but was still too scared to take the lead...and to say what he really wants...
Mr. Houser was stunned to find his boy Cole jerking off with underwear on his face. He's certainly fantasized over underwear before, but it was something else entirely to know that his own boy was thinking of him as he pleasured himself! He wants to give him everything and make him happy, leading him to consider doing things that he knows are a bit taboo. Searching high and low for and answer, Mr. Houser has found a way to maybe break through the social bonds that are holding him back from fully loving his boy... he just hopes he has the bravery to go all the way.
Mr. Landon loves his boy more than anything. He's watched him grow into a beautifully handsome young man. A literal adonis... And he can't deny his admiration of his boy's looks and body. A regular chip off the old block! This muscle daddy takes pride in his own body. His smooth, tan skin, well-toned physique, and his thick, meaty dick. When he sees his boy begin expressing interest not just in other, older men, but catches his boy checking him out; he looks for a way to broach the subject and give his boy what he wants. Luckily, with a little deep digging online he's found ForbiddenBoy.com, and sees a way to be closer to his handsome boy... Giving him the love and support he really craves and needs.