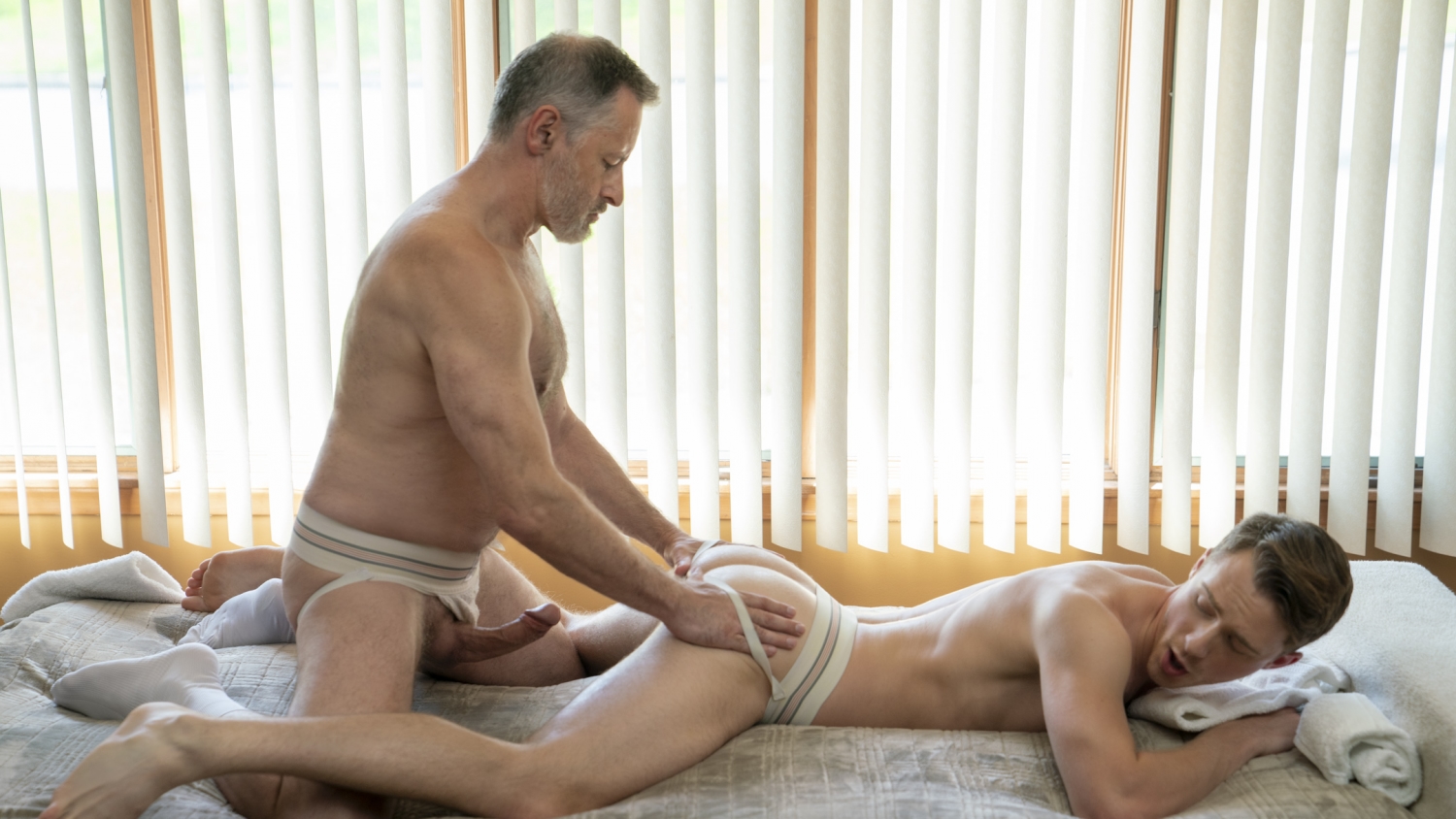 BOY'S FIRST TIME : Tape 1
Boy Massage
I could hear Cole going through his things in the next room. In my mind that wasn't exactly the purpose of the Forbidden Boy Hotel, but the place was pretty big with multiple bedrooms. At least five people could have stayed at the bnb-style hotel without needing to share a bed. I suppose it makes sense — giving each couple a place to start from. If every man knew he had to share a bed with his boy, maybe they wouldn't be so brave...
When Cole started showing signs of his attraction, I was completely at a loss for words. I was flattered, but had no idea of what to do or say. I wanted to show him my love and to return the affection and attraction, but I didn't have any sense of where to begin.

Forbidden Boy seemed ...
Read more
Forbidden Boy seemed almost too perfect. A complete, guided experience on how to break through that wall. It was a chance to let go of my fear and give my boy what he needed most. When I got the confirmation email, I couldn't believe I was going to go through with it! But there it was, in black and white on my screen; the dates where I would make love to my boy for the first time.
The place was exactly as described online. When we go there, we were given a packet that had information and instructions. The packet was, I'm not sure how to describe what it was like to read it...I couldn't believe it. I read the instructions quickly and readied myself for the first activity.
Actually, one of the first tasks we were given was to undress and put on the provided robes and then meet in the master bedroom. My heart was racing as I felt the soft terry cloth pass over my skin. I wondered if Cole was as nervous as I was.

When I walked into the room, I saw him sitting on the bed; his legs hanging down with just the slightest bit of his inner thigh exposed. His eyes were wide and alert, his expression was that of a boy in doubt... He wanted a sense of security and to know what to do.
I could see him struggle and I couldn't let him squirm. I stood him up and stood behind him, running my arms over his, feeling his chest beneath the robe, and caressing him in a new and intimate way. I knew he wouldn't be the first to reach out. He's my youngest, and as his old man, I had to set the tone and let him know it was okay.
My hands could feel his heart beating as I played with his soft, young chest hair. His toned body was an exceptional thing of beauty. I was so proud of him and so proud of the bravery he showed. I knew I needed to reward him, but I couldn't spoil him.

I ran my hand down his hard, smooth stomach and into his jockstrap--the only bit of covering he had beneath the robe. Feeling his warm genitals in my hand was unlike any moment in my life. It was so delicate and so vulnerable, but in my grip, I knew it would never be more loved and more safe. I gently squeezed his testicles, feeling the heat of his vitality and virility. My boy was a man now; one with beautiful breeding equipment.

He let out a breath, moaning in sweet relief at my touch. I could feel his body come alive, getting what it had been wanting for years. He leaned back against my body, pushing his cock out slightly into my palm, resting his back against my chest. I could have stayed right there, holding him tightly and lovingly... But we'd only just begun!
I took off his robe, seeing his perfect, athletic butt shelved on the white straps of his jock. I leaned in and kissed the side of his neck. My lips trailing up to his face, planting my love on his cheek. The more he melted into me; the more I touched him and accessed parts previously blocked to me. I felt my cock growing hard! My heart pounded furiously, shooting all my fluids into my cock, swelling from affection and arousal.
My hand gripped his buttocks, coveting his beauty, in disbelief that someone so sweet could be mine. It took all my might to pull away and tell him to lie down on the bed. My voice shook as I broke the silence, knowing that this dream was only going to become more real. As he stretched his body out, my palms ached to feel him again.
Cole presented his ass up to me like it was gift. His two, milky cheeks curving on either side of his deep, beautiful hole. His eyes twinkled, inviting me in, desperate to be possessed. I placed my hands on them, massaging them and kneading them beneath my fingers. My beautiful boy responded like a dog getting pet, arching his back and curling his toes. I worked each glute, then pulled out his heavy nuts and teased his fully engorged shaft.
Seeing Cole so turned on — and so big — was a moment of joy I couldn't have anticipated. To see him happy and fulfilled, and to know that it's from my actions — what more could I ask for?
His hole taunted me as it clenched and released. Cole's writhing buttocks made my mouth water, getting the better of my restraint and discipline. I stared longingly at it, feeling my tongue get heavy with saliva. Before I knew it, I was throwing my face down hard between his ass cheeks, feasting on his boy hole and lapping at it's delicate opening.
Damn! It was heaven... A literal slice of heaven! I felt his flesh press against my face as my breath warmed up his tight pucker. He tasted perfect and I couldn't get enough! I could feel his body twisting beneath my tongue, but I kept him in place; needing my time to experience my boy. My cock dripped pre-cum, knowing that I was soon about to feel my Cole's sweet little hole wrapped tightly around my manhood. I could hardly wait...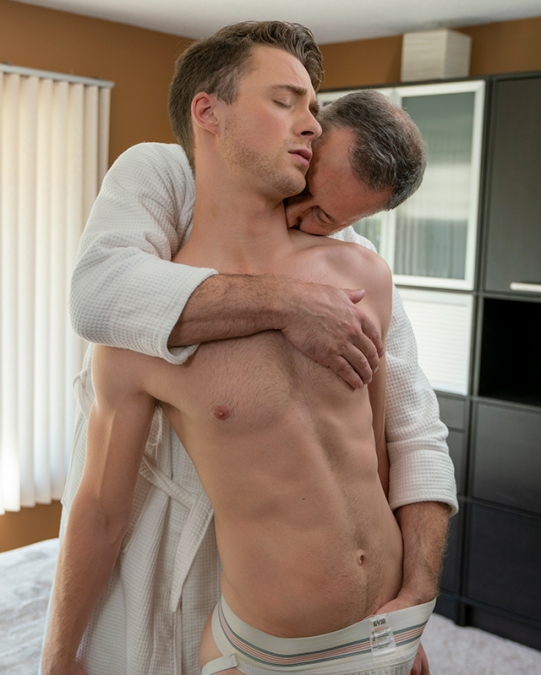 Cole has a secret that's been eating him up. Yes, he's gay. Yes, he fantasizes about men... But that's not it! Many boys his age think about getting fucked by other guys. Some look at hunky men, with their muscular and furry bodies and get wildly turned on. He likes other guys his age, but he also is wildly turned on by "daddies," especially those with big dicks. Hung handsome older men are a huge turn on for the boy. And none fascinate him sexually more than the man who raised him. The young man has been thinking about it for years, but he knows there's almost no way to bring it up or see it come true. It wasn't until Mr. Houser caught him jerking off to his dad's socks and underwear that the cat was out of the bag! He trusts and loves his handsome older daddy completely, but was still too scared to take the lead...and to say what he really wants...
Mr. Houser was stunned to find his boy Cole jerking off with underwear on his face. He's certainly fantasized over underwear before, but it was something else entirely to know that his own boy was thinking of him as he pleasured himself! He wants to give him everything and make him happy, leading him to consider doing things that he knows are a bit taboo. Searching high and low for and answer, Mr. Houser has found a way to maybe break through the social bonds that are holding him back from fully loving his boy... he just hopes he has the bravery to go all the way.