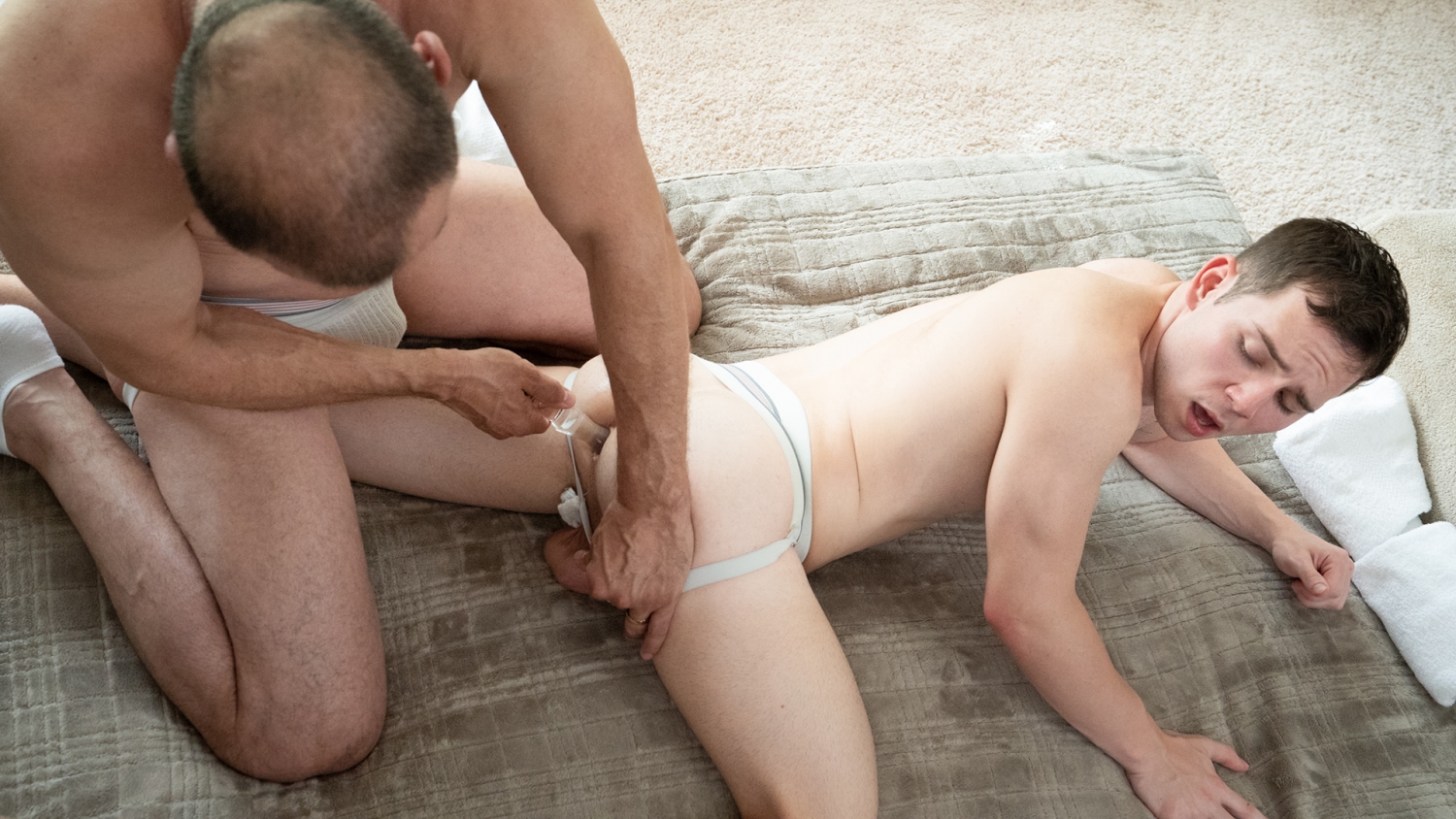 OUR FAMILY BONDS : Tape 1
Welcome to Forbidden Boy Hotel
I remember the first time I kissed my grandpa. It was my birthday, a few years back. It sort of came out of nowhere. He went in for a hug and he kissed me on the cheek. He'd done it before a hundred times, but something made me turn my head a different way and his lips planted on mine. No one else saw, it happened so quickly, but time seemed to stand still for a little bit.
In truth, it ...
Read more
In truth, it was my first time kissing a guy. An unusual situation, I know. But what surprised me was what happened at that moment. I tasted my grandpa on my lips like I never had before. My heart pounded and I held my breath, not sure what he would do. He looked at me, somewhat intensely, and then smiled and carried on with the party like nothing had happened.
I thought about that kiss a lot. It made me feel something… something hard to explain. It was like being warm, but also dizzy, but also incredibly alert. I wanted to feel like that all the time. And whenever that feeling came over me, I would think about that kiss and get an erection. I even masturbated thinking about it.
As intense as it was, it was the last time my grandpa ever kissed me. He hugged me still, but he always seemed to keep some distance between himself and me. He even stopped hugging me all together by the time I was 18 and just started patting me on the shoulder or back. I felt like I'd done something wrong or made him uncomfortable. That was until one day when he gave me a special surprise.
He wanted to take me on a special weekend away, something we hadn't done in ages. Long before the kiss, even. He said he couldn't tell me where we were going, but that he thought I would enjoy it. I thought maybe we were going camping or to some sort of park. But as his car started to take certain turns, I realized that I started to recognize the path.
I thought for sure it was a coincidence, but as he took one familiar turn after another, I felt my heart beat fast and my breath get short like it had on that birthday. I knew where he was taking me because I had been there before. He was taking me to the Forbidden Boy Hotel.
I wasn't sure if he'd heard something from Mr. Landon or Ian or what. He didn't seem angry or concerned, so it must have been for some other reason than to scold me. Then, a thought occurred to me that made hard as rock: what if my grandpa is taking me there to fuck me?
The rest of the drive I didn't know what to say. The radio filled the silence for the last stretch, but once the keys were out of the ignition, I tried my best to play everything off cool. I still didn't know what exactly to expect, but I didn't want to do anything that would tip things awkwardly one way or another. But once we were inside, I saw the familiar furnishings and layout from before.
My grandpa walked around the place, getting his bearings and figuring out where the bedroom and bathroom were, places I'd already seen but pretended I was discovering as well. Every moment that passed felt like an eternity as I awaited my fate. Things became abundantly clear when I returned from a brief separation to find my grandpa in a white bathrobe. In his hands he held another robe with a white jockstrap on top. He hadn't said much as we entered, but all he said now was "put these on."
My hands shook when I took off my clothes. I wasn't a virgin anymore, but nothing prepared me for this. My head swam with different fears and fantasies and questions. When had he planned this? Was this because of the kiss? Did he remember it? Am I making a mistake? Can I really do this?
When I presented myself in front of him, he gave me a look that made me forget all my doubts. He came closer to me, making me feel so small next to his large, muscular body, and gave me a deep kiss. His face moved slowly, making me breathless as I waited for his lips to touch mine. As they did, I felt the reason why he likely waited so long to kiss me again.
Between him and myself, I felt a firm, hard extension from his loins poke into my stomach. He had an erection! It never occured to me that he would respond similarly to me, but with his lips on mine, I could feel my grandpa's hard on aching to come out!
He didn't remove his robe right away, though. Instead, he pulled mine off, letting it fall from my body onto the floor, revealing my naked body, save for the tight jockstrap he provided. He looked me over, feeling my chest and arms, taking me in his eyes. He even reached around to my backside, feeling the cheeks of my exposed ass. It felt so good.
My grandpa then laid me down on a bed face down. I was more excited than I could imagine, turning into a puddle as he began to run his hands on my back. I thought he was going to give me a massage, but then I felt the unmistakable feeling of his scruffy beard and mouth trailing behind his hands. He kissed me from my neck all the way down my spine, rubbing me and relaxing me until his lips began to kiss my ass.
My back arched as he did, seemingly involuntarily to the way it shot pleasure throughout my body. I couldn't believe that his tongue was sliding between my ass, lapping at my hole. My cock was pressed between the bed and my stomach, grinding into the bed as it swelled up and began to leak.
My grandpa had an incredible tongue. I didn't realize that being licked and kissed there could feel so good. He came up for air after a while of swirling his tongue around to kiss me on the lips again. As he did, I could see that he took off his robe. He was so handsome, so strong, so sexy. And the bulge in his jockstrap was like a baseball!
As much as I loved the deep rimming he gave me, what really set me off was when he brought out the clear, glass toy. It was like a wand that he used to trigger every internal pleasure. He oiled it up, getting it good and wet before he moved it between my cheeks where his tongue had been.
It felt cool and firm, like a steel pipe, but smooth and rounded like it had no edges whatsoever. I was nervous, but looking back at my grandpa, he nodded and told me it would be okay. I trust my grandpa more than anyone else. And even though I was a little scared, I wanted to do it. For him.
It seemed too big at first. Like it could split me in two. But when grandpa gave me one more deep kiss and I felt my body open like it had for my first time. The toy slipped inside my hole, pushing up against my prostate. My balls felt funny and my cock leaked even more on my stomach.
I felt like I was about to explode and I tried to hold back as much as possible. But it was no use. Suddenly and without control, I burst all over my stomach, right through my jockstrap and onto the bed. Jet after jet of cum poured out of me, covering me in my own fluids.
At first I was embarrassed, worried that I'd disappointed my grandpa and ruined the opportunity to show him I could be a good boy.
Thankfully, he didn't seem bothered. He actually seemed amazed! He smiled, thrilled to have given me pleasure. I lifted myself up and he could see the mess I'd left on myself. He ran his hand all over it, playing with my cum and tasting it, bringing it to his fingers and up to his mouth. He ate it like it was some sweet treat. It was wild to see him swallow my cum, but all it made me want was a taste of his!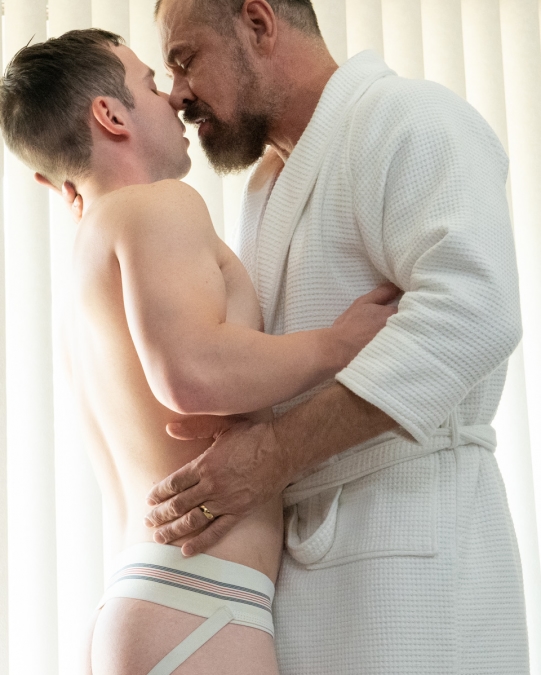 Danny is a little shy around other guys. He's always been a bit small and insecure, not really feeling like he can hold his own around the other boys at school or the older men he admires. He's always felt a little unseen and confused. Even with members of his own family, he's looked up to the bigger men that came before him, noticing their impressive masculinity and confidence. He wishes so much that he could be like them.
Mr. Ballard is nearly unmatched in his physicality. Not only is he a tall, powerful man with a serious look, but he knows how to use his strength to intimidate and defend his loved ones. But despite his rough exterior, he's a gentle giant when it comes to his family. Especially around his grandson, Danny, he would do anything to protect him and keep him away from harm. Having filled in a lot as a father figure, he is very close to the young man and invested in his happiness. This became more complicated by the fact that he started to feel sexually drawn to the innocent young man. When a close hug turned into a surprise kiss, he felt his impressive, beer-can thick cock stand at attention, making him question his motives for the sweet faced boy. Fortunately, thanks to the Forbidden Boy Hotel, Mr. Ballard is learning that he can still be the father figure Danny needs as well as a passionate, caring, primal lover.