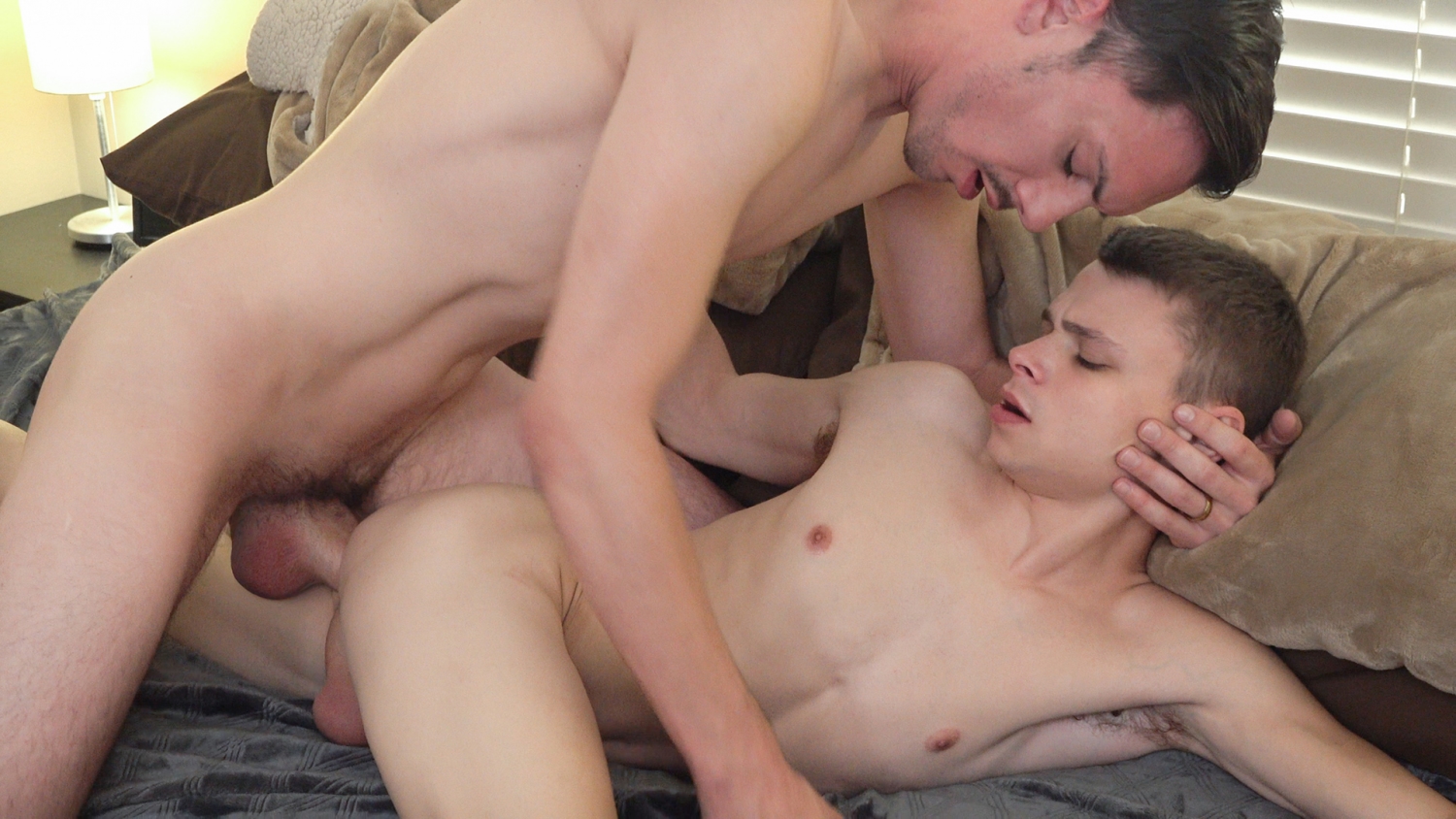 DADDY'S LITTLE BOY : Tape 15
My Dad's Brother Is Hung!
Mr. Divino has always loved spending time with his brother and his boy, Austin. Even when he was younger, Austin would always greet him with a big smile and a tight hug. The tiny boy barely came up to his chest, but managed to wrap his arms around him so snugly that he could hardly breathe. Austin's affections were certainly returned by his uncle, but there was always a distance he tried to maintain.
Mr. Divino wasn't ...
Read more
Mr. Divino wasn't blind to how Austin had developed. Even as a young adult, Austin still had his sweet, innocent face and boyish features, but he had grown strong, mature shoulders and a toned, slim body. Mr. Divino and his brother were also a bit wiry and lean, impressed at the strength of their genes. Of course, Mr. Divino wasn't skinny everywhere.
Concealed in Mr. Divino's white brief underwear was a massive, thick cock that was about as thick as his wrist. He'd been self-conscious of it when he was younger, but now as a grown man, he loved seeing the look on another man's face when they saw his monster manhood. It gave him a special thrill to see someone try to take it. And just recently, he'd given the opportunity to someone he never thought possible… his own son.
Mr. Divino didn't think he'd ever get comfortable with the idea of his own boy sucking his shaft and taking his load, but the more it happened, the more he came to crave it. He found it all the more sweet to share his body with his family, and he found himself starting to set his eyes on his nephew, Austin.
It happened without much thought. Mr. Divino came to spend the night, passing through town on a work trip and needing a place to crash. After a shower and a quick bite to eat, Mr. Divino settled into his room with his laptop, queuing up some porn to get off and get some rest. Just before he pulled out his cock to start stroking, a knock came at his bedroom door: Austin.
The older man was ready to send the young man away, telling him he was indecent, but his dirty mind was too far gone to retreat. Letting the boy in, he didn't close his screen or hide from his nephew just what it was he was doing. Austin didn't shy away, curious to see what it was his uncle was doing.
Austin saw the massive bulge in his uncle's underwear, sending blood directly from his flushed cheeks to his loins. It was bigger than he ever imagined, and he spent many nights picturing what his uncle's cock would look like. Even in the tighty whities, it was clear it was thicker and heavier than most he'd ever encountered.
Inviting Austin to sit closer, Mr. Divino opened up his body for him to get a better look, aware that he was in nothing more than his underwear and a robe. It was more naked than he'd ever been with Austin, but he found the boy to be more comfortable than he expected.
Boldly, he gave the boy a kiss, half-expecting him to turn away. Instead, Austin kissed him back, meeting the moment and matching his desire. It was unreal. What was happening? Could he really do this? It was one thing to make love to his own boy, but his nephew? Was this too far? Should he stop?
Before he could come to his senses, Austin's hand made its way to his groin, gripping his bulge with a hungry passion that could not be ignored. Mr. Divino smiled. He wanted this. He really wanted this. Looking into his eyes, seeing the little boy who'd always shown him such love and devotion, he knew he couldn't deny him. And fortunately, it meant he didn't have to deny his own urges.
Pulling out his cock, Austin's eyes widened, seeing the fullness of his uncle's manhood for the first time. The look on his face was enough to make Mr. Divino even harder, proud of his size and happy with Austin's reaction. Austin began to stroke it, teasing him and feeling its rigidity between his fingers and desperate to taste it. Giving the boy a smile and nod, Mr. Divino gave the boy permission to suck it.
Austin tried his best to savor the taste. He knew what many of the men in his family tasted like, but he came to appreciate the unique differences between them. Their subtle pheromones filled his nostrils as their cocks filled his mouth, and he swore he could identify them blindfolded if need be.
He loved knowing that he was experiencing something special with each of them, knowing that many would see what they were doing as wrong. But as he sucked on his uncle's cock, his heart swelled with love and appreciation… and his cock swelled with mounting arousal.
Mr. Divino could hardly contain his excitement, however. Shortly after Austin's saliva coated his member in its warm wetness, the older man knew he wasn't going to be able to stop at just a blowjob from his sweet nephew. Stripping Austin down and pulling off his underwear, he gazed at his smooth, milky backside, seeing his tight hole presented up toward him. It reminded him of his own boy's, making his cock leak with precum.
Mounting Austin, the older man tried to go slow, knowing that his enormous size might be a struggle for the little boy's hole. Even the most experienced men had trouble taking his meat, and he didn't want to do anything to harm his sweet little guy.
Austin held onto the covers of the bed, gripping them as he grit his teeth, trying to brace for the moment of penetration. He was no stranger to a deep dicking, but Mr. Divino's cock was a formidable challenge. The first feeling of stretching was a bit intense, eased by his own saliva and hungry hole. Achingly slowly, Mr. Divino pushed in, feeling the elastic knot widen around him until the head of his cock made its way inside.
Austin didn't know if he was going to be able to take it all, but he was determined not to stop. He wanted to show his uncle he was a grown man and could handle whatever he gave. Mr. Divino could feel Austin tremble and see his hands cling to the bedding, but he persisted. He needed to give the boy his full cock, fucking him deep and leaving him filled and satisfied…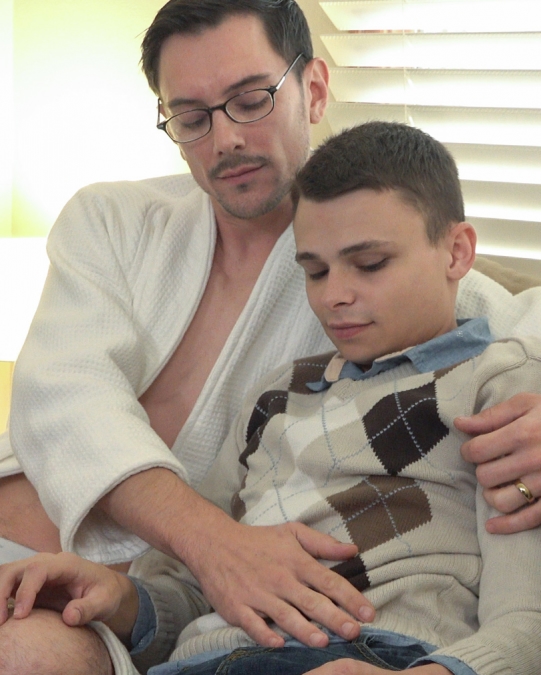 Little Austin Armstrong is a tiny little twink who has just started to fully understand his sexuality, and more importantly the effect he has on others. In other words, the appeal he has for the handsome older men he lusts after. He's always loved being small and getting attention from bigger men...his dad, his dad's buddies, uncles, bigger male friends in school. Now that he is able to explore his sex and sexuality, he returns the glances of the men he catches staring at him. Ever since he turned 18 he finds himself getting all kind of looks from handsome, older men...even complete strangers who have taken a liking to him. He's turned to his dad because he's been unsure of what to do with that attention, but he's eager to start experiencing grown up fun.
Anthony Divino isn't your typical daddy! He's the youngest in his family and has much more in common with his nephew than he does his brother. He loves being active, social, and keeping up with his younger friends and colleagues. He never really considered himself a "daddy" until he caught his horny nephew checking him out and sniffing his jockstrap. The idea shocked him at first, until he realized just how hard it made him! With a little help from the Forbidden Boy Hotel, he's discovered a whole new side of himself (as well as his nephew) than he ever thought possible. His lean, athletic body and thick dick make him a natural breeder, giving him the stamina and energy to make his boys beg for more!