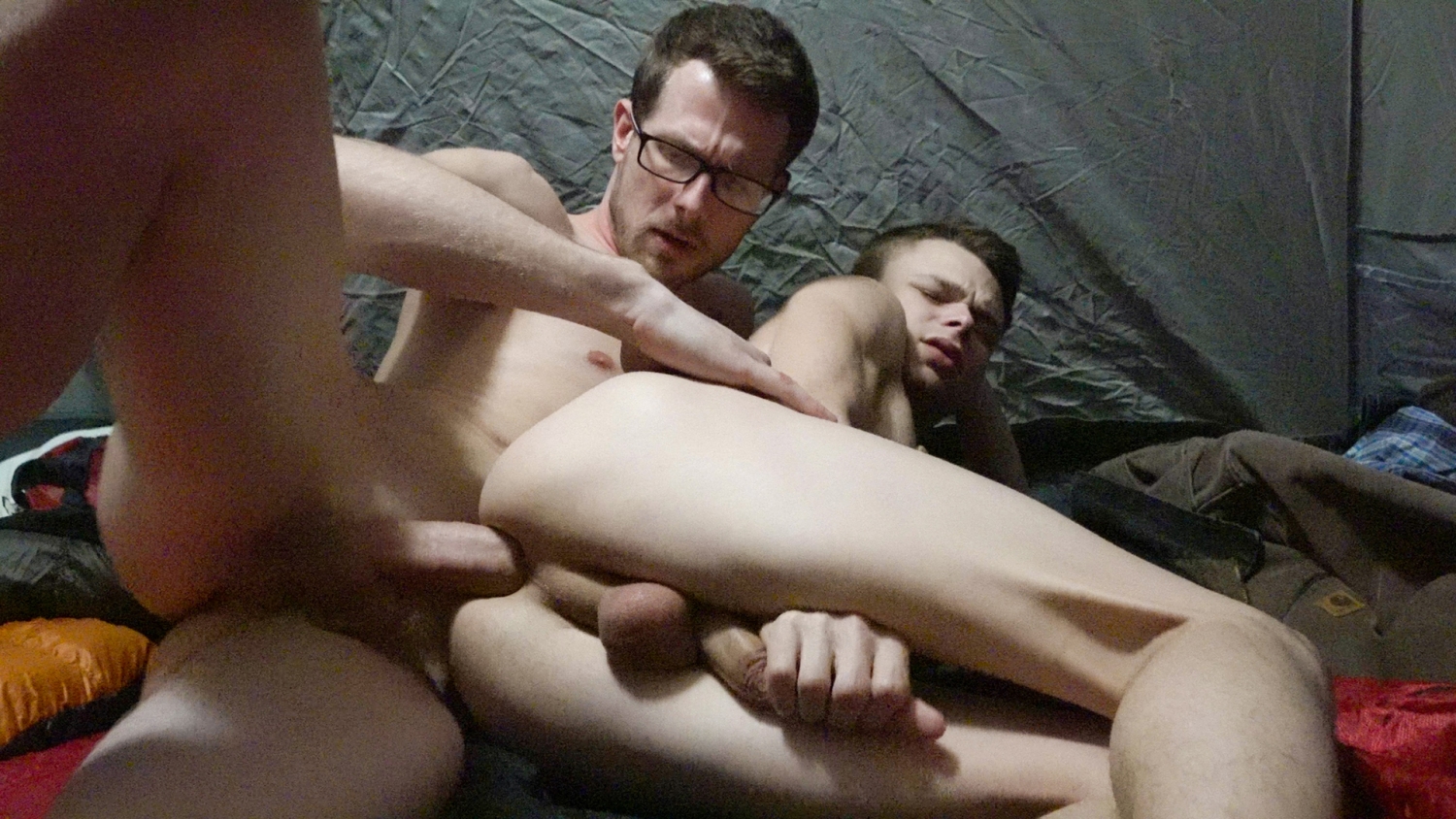 DADDY'S LITTLE BOY : Tape 14
Father Son Campout
Mr. Armstrong loves being able to take his boy out in the world. Every time they go out to dinner or to the movies, he can see the way other men get jealous of him. They see his beautiful, young, happy little guy and wish they could be so lucky. Mr. Armstrong is proud of his boy and he loves knowing that Austin is his.
But as much ...
Read more
But as much as he loves to go out, he also can't get enough of spending quality, one on one time with his son. Camping has always been a favorite pastime of theirs, and ever since they forged their beautiful bond, it's become even more special.
They drove for hours to get to their secluded spot, only making a few stops along the way before they reached their destination. Despite making good time, it was well after dark when they got to their site. No time to make a fire - the two quickly set up their tent and settled in for the night. They knew they'd be there for a few days, and the s'mores could wait until they were well-rested.
Austin felt the cold air bite at his face as they finished propping up the tent. Even once they got inside, it wasn't much better. Mr. Armstrong told him to strip down and get in the tent, assuring him that he'd be warm once he was inside his sleeping bag. Austin shivered as he pulled down his pants and took off his shirt, leaving just his pair of briefs.
The little guy slipped into his sleeping bag, rustling around to try and get warm. A few minutes went by and he still felt the chill. He looked over to his old man, similarly stripped and wrapped in his sleeping bag. He looked so warm and still, ready to sleep after a long drive.
Austin didn't want to disturb him, but he knew he wasn't going to be able to sleep. Letting Mr. Armstrong know he was cold, the older man offered to sleep in the bag with him. Austin nodded, sheepishly accepting his daddy's suggestion. The bag wasn't really made for two, so he knew they'd have to get pretty close. This wasn't a problem, of course. The two were used to being pretty intimate.
Austin felt the older man's warm skin press against his. The smooth surface practically wrapped around him, holding him tightly and firmly in place. Austin loved feeling his old man holding him as he fell asleep. It was the most comforting sensation he could think of. The older man rested his loins up against Austin's buttocks, big-spooning him close in the sleeping bag, feeling the boy's body stop shivering as he warmed up their shared bag.
The two were poised to fall asleep, but it was now Mr. Armstrong who struggled to rest. Austin's little body was absolutely perfect. His gentle breaths made his daddy heart swell, and the way he could hold Austin and touch him was still unbelievable. Armstrong felt his manhood begin to swell up inside his underwear with barely anywhere to hide it inside their sleeping bag. He knew he wasn't going to be able to fall asleep with his growing erection.
Running his hands over the boy's body he tried to warm him up, but deep down he knew his desires were more than just paternal. He ran his hands down Austin's torso, down to his legs and inside his underwear. He could feel his boy's little cock in his briefs, growing harder as he touched the smooth balls and buttocks. Mr. Armstrong couldn't believe how lucky he was.
Austin began to breathe deeper and heavier. His exhales became moans as Mr. Armstrong played with his young body, arousing him and stirring up his lust. Austin was plenty warmed up now, and hungry for his daddy to love him and fuck him.
The two pulled off their underwear, their cocks fully hard and pressed against one another. They slipped off the top of the sleeping bag, giving them a chance to stretch out and take advantage of their private campout space.
Mr. Armstrong turned Austin on his belly, leaving his smooth, precious butt on display. He couldn't resist giving it a kiss, pressing his lips between the cheeks and giving the smooth hole a taste. His tongue was in love with this hole more than anything else, eager to be back between those round mounds to lap at his boy. The daddy loved how it felt and how it made Austin tremble. Austin knew what was to follow, and was ready.
Mr. Armstrong got on his side, his cock leaking precum as he turned Austin's butt toward him. Austin did as he was taught to do. He moved his hole toward his old man and breathed steadily as the rock-hard shaft began to enter his body. It was so firm and rigid, pressing against his soft sphincter before pushing its way inside. He'd gotten used to being fucked by his daddy, but that initial penetration was always an intense feeling. He knew it would quickly become pleasure, but he was willing to endure the moment of pain to make his daddy proud.
Austin's heart raced as his dad slid himself deeper inside. The old man might have been exhausted, but he had enough energy to show his little guy how much he loved him. How much he needed him. How much he turned him on.
Austin stroked his own cock as Mr. Armstrong picked up the pace, burying his massive cock deep inside, pounding harder and harder as he got close to cumming. Austin felt the heavy balls slapping against his ass, getting ready to fire-hose out a big load. Austin was ready for it, eager to feel his old man burst inside him.
And then, just as quickly as it began, Mr. Armstrong let out a loud, grunting, bestial sound, erupting from his loins as cum flowed out of his cock. Austin could feel it spraying into his hole and out on his ass. It was intense and powerful, and just what Mr. Armstrong needed. Austin felt the hot jizz fill his body, warming him from the inside as he thought about his daddy's DNA swimming inside him. It made him feel special and loved.
The two kissed and clung to each other once more, slipping into the sleeping bag to get a good night's sleep, ready for the rest of their trip.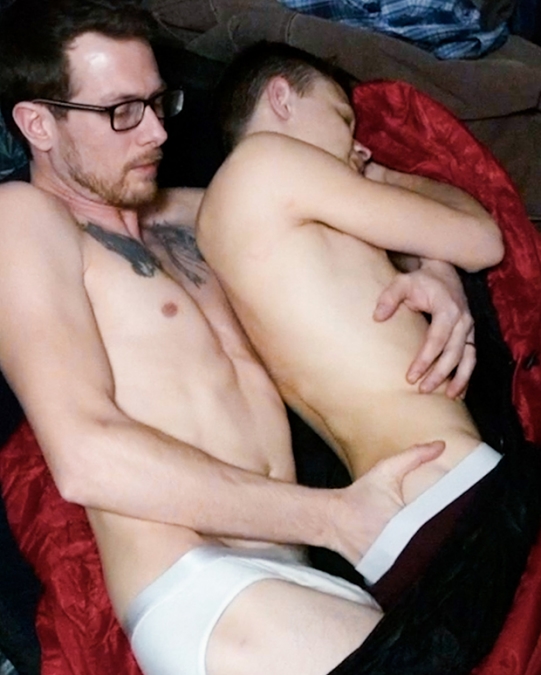 Little Austin Armstrong is a tiny little twink who has just started to fully understand his sexuality, and more importantly the effect he has on others. In other words, the appeal he has for the handsome older men he lusts after. He's always loved being small and getting attention from bigger men...his dad, his dad's buddies, uncles, bigger male friends in school. Now that he is able to explore his sex and sexuality, he returns the glances of the men he catches staring at him. Ever since he turned 18 he finds himself getting all kind of looks from handsome, older men...even complete strangers who have taken a liking to him. He's turned to his dad because he's been unsure of what to do with that attention, but he's eager to start experiencing grown up fun.
Mr. Armstrong wants to help his little guy out as much as possible. He knows that Austin might be small and look young for his age; and that that can be hard as a young man growing up in the world! At the same time, he can't help but be incredibly attracted to his boy. His boyishness is absolutely adorable. When he looks at him, he can't help but find his appearance unexpectedly appealing. He wants to touch him, to taste him... To be inside of him. It's like his boy's body was made for him. He loves his little guy more than anything else and would do anything for him... Popping his boy's cherry with the cock that made him, and filling his boy with his daddy batter is his his way of making a man out of his handsome son!