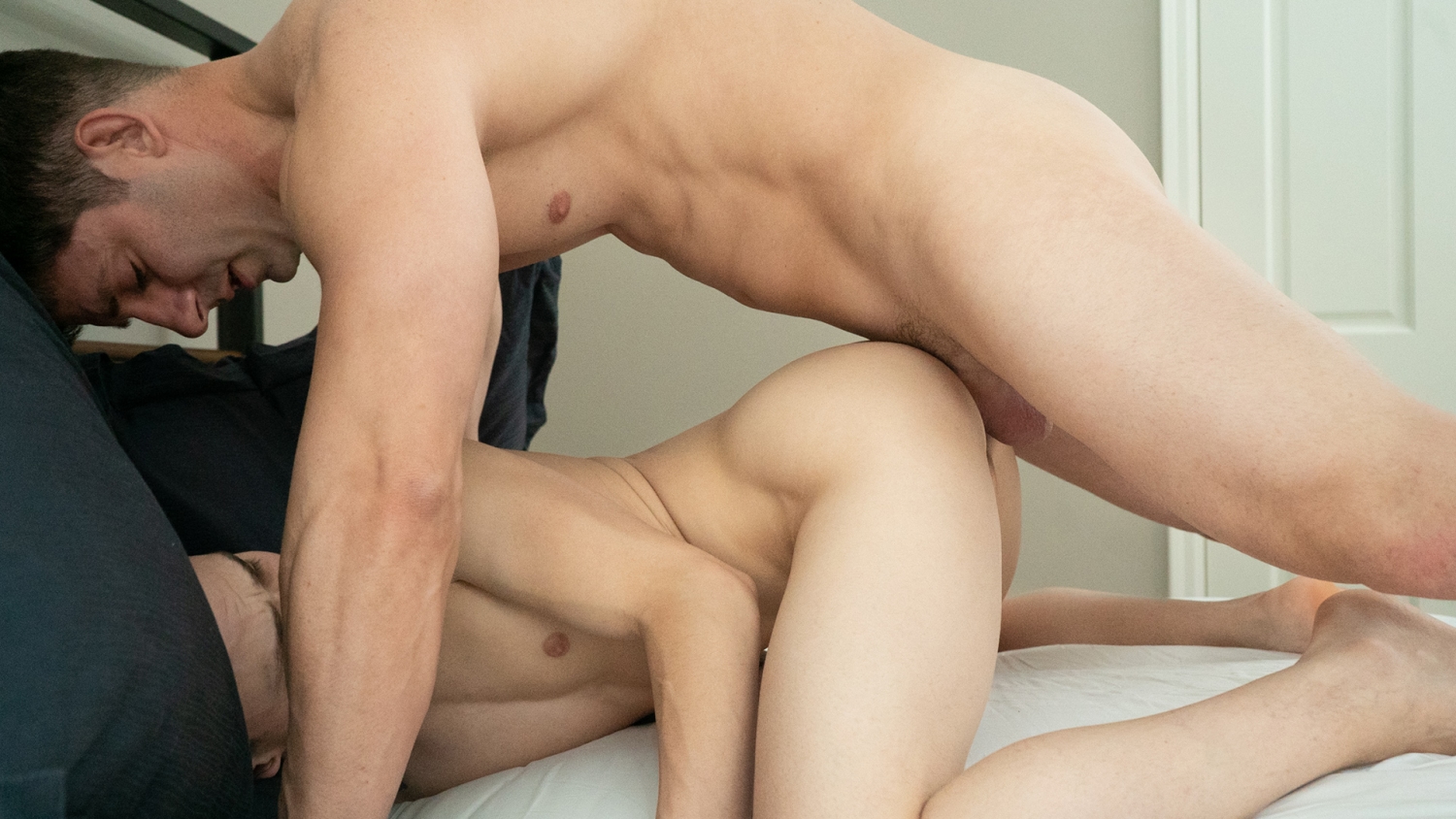 FAMILY HOLIDAY TRADITION : Tape 5
Caught Masturbating
Austin was so excited to hear his uncle Rick was coming to town. He always thought of him as his strong, sexy, younger uncle, especially when he was little. He's grown a lot since then, but the image of him in Austin's mind hasn't changed.
As soon as ...
Read more
As soon as the big guy came through the door, Austin couldn't believe how handsome he was. He dropped his big duffle bag to lean down and give Austin a big hug. Even with a few extra years on him, he was still movie-star handsome with a great physique. Dressed in an oversized hoodie and some loose-fitting jeans, it was hard to see all the contours of his body, but Austin could feel the solid structure of the stud.
Austin could tell he'd just come from the gym, not wasting any time getting in a workout even in a new place. He had the masculine aroma of a well-earned sweat, coupled with his own powerful pheromones. Austin remembered it from when he was a boy, taking him back to those first feelings of desire.
Rick was only staying for a few days, giving Austin a sense of urgency to re-introduce him to the full grown version of himself. Rick only ever knew him as a shy little boy, even calling him "champ" when they greeted at the door. Austin wanted to show him how much he's changed… and what he's learned.
Austin showed him up to his room, hoping to spend some time with him right then and there. But Rick put down his heavy bag on the bed with a groan, showing how exhausted he was from working out and travelling. He was beat and in need of a shower. Austin gave him a towel and showed him to the bathroom, disappointed that the older man locked the door behind him when he went in.
While the sound of the running water echoed through the house, Austin sat io his bed, playing with his dick while thinking of his hot uncle soaping up his naked body. He imagined what he would look like naked, curious if he had a cock like his dad's or like uncle Mitch. Or like his. He imagined what his balls would taste like… and how the head of his cock would feel in his mouth.
Before he could go any further in his fantasy, however, the water stopped. Austin tried to sneak a peek of him coming out, but Rick was too fast, going into his room and shutting the door. He waited, hoping for him to come back out, but as he looked at the clock, it was already after 11pm. Austin knew what this meant: one night lost. Time was running out.
The next morning, Austin woke up early, putting on a pot of coffee, hoping he could lure his uncle out of his room. But after a couple hours, Austin could see his devious excitement was not matching up to the moment at hand. Rick was likely still exhausted and sleeping in. Austin had planned a whole enticing breakfast of waffles and bacon, but didn't want to start until Rick was up.
Quietly, he made his way upstairs to Rick's room, planning on peeking in just to see if he was still asleep. As he gently opened the door, he saw something that blew his mind.
There was Rick, sitting up in bed, headphones on and stroking his cock with his phone in the other hand. He was in a white tank top that framed his chest perfectly, giving his pecs a beautiful presentation that showed off his fitness. His arms were strong and muscular, moving up and down as he massaged his shaft. And his cock… his perfect, sexy cock… was thick and veiny with two large balls hanging beneath and resting on his wide, powerful thighs.
Austin was in shock. He didn't expect to see him in this state. He'd hoped to find an opportunity to see him naked, but this came on more suddenly than he was prepared for. At first, his instincts told him to turn back and to give his uncle some privacy. But that desire that he'd felt for years was impossible to ignore. He looked on longingly, watching as the older man pleasured himself, stirring up Austin's own loins and making him hungry for cock.
In a moment of bravery, Austin walked in, catching his uncle off guard. Rick's eyes went wide and he instantly tried to hide his erection with his bedding. Austin, playing it cool, jumped onto the bed.
"What are you doing?" Austin asked innocently, curious to see how Rick would react.
"Nothing," Rick replied. "Just taking a nap." His voice sounded rushed, like he was trying and failing to come up with a convincing lie.
Austin shot him a look of disbelief, as if to say he knew the truth. Pulling the covers away, Rick's face went white as his nephew could see his massive, throbbing cock.
"Morning wood," Rick confessed. His tone indicated he knew he was caught, but didn't know what else to say.
Austin, knowing this was his moment, got up on top of his uncle, straddling his legs. Rick held his hands over his junk, trying to keep himself covered. But Austin, sensing he had the power in that moment, moved his hands away, giving him permission to have his cock out on full display.
Austin felt it in his hand. It was hard, but the skin was soft. It was warm and throbbing, still worked up from having been stroked. His heart raced, excited and nervous by what was happening, but wanting to show his uncle he was cool with it. He wanted him to see him as a grown up, capable of handling a man like him.
Running his hand up and down, he could see his uncle reacting in pleasure. He wasn't done jerking off and the boy's hand felt great on his shaft. Rick didn't know what to do, paralyzed with shock, but also very eager to finish what he had started.
"Are you into it?" Austin asked.
"A little." Rick let a smile come across his face. He couldn't believe what was happening, but it was too late now to take it back. He weighed his options for what to do, but seeing Austin's determination and enthusiasm, he decided to go with it.
Austin, taking this as the green light he'd waited years for, leaned down to start sucking. Rick stopped him, the reality of it sinking in, but Austin assured him it was okay. As the boy's hot breath closed in on Rick's cock, the uncle felt himself completely taken over by his own desire.
Austin swallowed his cock, taking it deep into his mouth, exhaling through his nose as it filled his throat. Rick let out a moan, feeling the sensation wash over him, enjoying the alternative to his own hand. It was a little strange at first, but as Austin's exceptional skills proved, he was no stranger to a man's meat in his mouth.
Austin's heart pounded so hard he was sure Rick could feel it on his tonsils. It was an absolute thrill and one that seemed to be a lifetime in the making. Seeing Rick pleased with what he was doing made it all the more satisfying.
Rick stopped him, putting a hand on his shoulder, looking deep in his eyes. Austin was worried he was going to tell him he couldn't continue, trying to let the taste of his cock linger on his tongue, worried it might be the last time he could enjoy it. But to his surprise, Rick went a different direction.
"I want you to ride me."
Moving with haste, Austin mounted his uncle's wet cock, feeling it against his own as he maneuvered himself into position. Once the tip of his shaft was beneath his hole, Austin lowered down on it, trying to slide it into his ass without hesitation. Rick couldn't believe how fast Austin managed to get himself in place, giving him no chance to second guess his wish.
Austin felt Rick's cock break through his sphincter, entering him and filling him up slowly inch by inch. Rick seemed concerned about hurting little Austin, but the horny bottom was desperate to feel him all the way inside.
Rick let out a deep moan when he felt his nuts brush up against Austin's smooth ass, realizing he fully penetrated his little nephew. It felt strange and new, but he found himself loving it. Seeing Austin in the light, he couldn't believe how much he'd grown. He was still his little "champ," but now, on the end of his cock, he had become something more… his special little power bottom. And as he felt himself getting closer to cumming, he couldn't wait to fill his hole with his seed.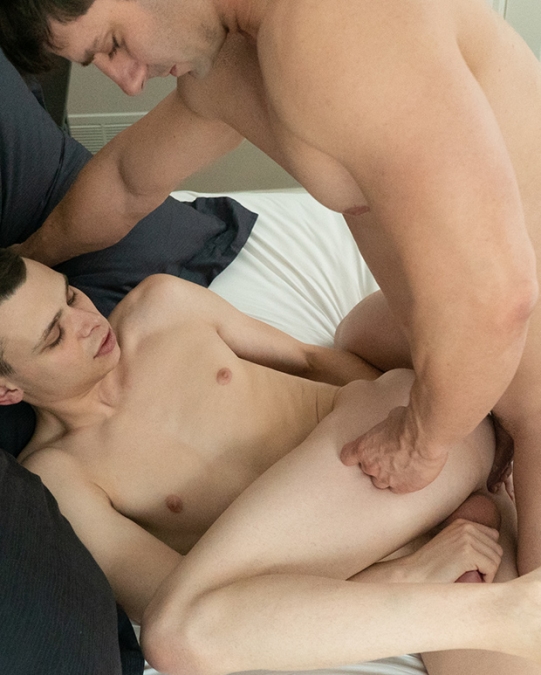 Little Austin Armstrong is a tiny little twink who has just started to fully understand his sexuality, and more importantly the effect he has on others. In other words, the appeal he has for the handsome older men he lusts after. He's always loved being small and getting attention from bigger men...his dad, his dad's buddies, uncles, bigger male friends in school. Now that he is able to explore his sex and sexuality, he returns the glances of the men he catches staring at him. Ever since he turned 18 he finds himself getting all kind of looks from handsome, older men...even complete strangers who have taken a liking to him. He's turned to his dad because he's been unsure of what to do with that attention, but he's eager to start experiencing grown up fun.
Rick has always been a bit of a lone wolf. While the rest of the family has stayed close, he's tried to blaze his own trail and do his own thing. As an uncle, he loves his nephews, but he's never really felt the desire to hang around. He sees how they look up to him as the young, cool, handsome uncle, but he's always been more comfortable on his own.

While being independent has kept him from close family ties, he's not exactly a virgin. With his movie-star good looks, chiseled, muscular body, and thick cock, he's had plenty of fun fucking just about anyone he can! While he's spent a lot of time with the ladies, he's finding himself more and more open to the idea of sex with a man. He loves lean, small, smooth bodies that can still make him feel big, but he can't deny he loves seeing a hard cock cum. Perhaps even his own nephew's.